Unless any previous arrangements have be made in writing with multi-piece orders, your shipment will be sent via a common carrier also know as LTL carriers (Less Than Truckload). Such carriers for example are T-Force (formerly UPS), YRC, Old Dominion, R&L Carriers, etc. You will be emailed the tracking number and name of carrier as soon as your shipment leaves our warehouse. It is highly suggested at this time for you to start communicating with them about your shipment.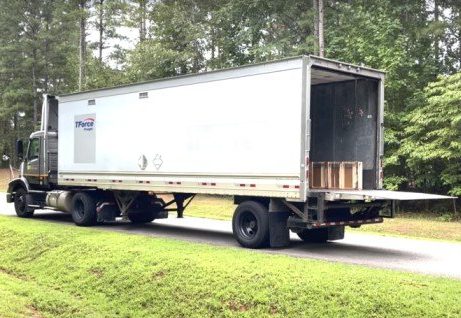 All LTL freight carriers will be delivering from a 26 to 53-foot tractor trailer (semi-truck) with a liftgate. Some municipalities and some delivery areas prohibit or limit the access of semi-trucks.  You, the customer, are responsible for knowing those restrictions before placing your order.  In these circumstances, customers may need to arrange pick-up at a local trucking distribution center or a common area that is more accessible for the semi-truck.
Again, carriers are required to call before the delivery to set an appointment with you, the customer. Please ensure the number you provided is also the number you want the carrier to call to schedule the appointment.
The carrier's service will include the truck driver (only 1 person) unloading the package from the truck with a lift-gate using a pallet jack. Depending on the type of machine your assistance may be required. They will place the package as close to the curb of the destination address as possible.
Once the package is unloaded from the truck, the carriers responsibility has been fulfilled. No further services will be required of them.